Fordingbridge
Choral
Society
Fordingbridge Choral Society
has been bringing classical choral music to the ancient market town of Fordingbridge in Hampshire and beyond since 1977. Currently we have around 40 members drawn from Fordingbridge and local villages.
Our repertoire ranges from madrigals and part songs to the great choral masterpieces. The works of Bach, Brahms, Britten, Handel, Bernstein, Purcell and Haydn have all featured in our concerts.
Our main performance venue is the 12th Century St. Mary's Church in Fordingbridge, but we have also appeared in a wide variety of churches and halls throughout the area.
​
Chairman: Mr Ian Turner
Secretary : Mr Ian Gates
Nigel joined us as Musical Director in January 2013. He began his musical career as a chorister at St. Paul's Cathedral, followed by a music scholarship to Canford School. After studying at The Royal College of Music, he spent many years as an orchestral player, and was Principal 2nd Violin with the BBC Concert Orchestra, also working with leading orchestras including LSO, Philharmonia , CBSO, BSO.
​
A freelance conductor of choral and instrumental ensembles, he has appeared as Musical Director in the West End theatre and Manchester Opera House.
​
In addition to Fordingbridge Choral Society, he is also director of the Edwards Ensemble, a small instrumental group comprising leading players from London and the south.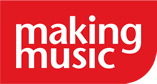 This society is affiliated to Making Music which represents and supports amateur vocal, instrumental and promoting societies throughout the United Kingdom
Member of British Choirs on the Net