Welcome!
The Fordingbridge Choral Society has been providing the finest music for the past 40 years.
Spring Term
Our Spring Term began on January 8th. If you would like to join the choir to rehearse the music for the
Spring Concert on April 4th you will be most welcome.
If you would like to hear excerpts from the Mozart Requiem recorded at a recent concert please use this link which will take you to YouTube and will open in a new window. Enjoy!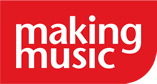 This society is affiliated to Making Music which represents and supports amateur vocal, instrumental and promoting societies throughout the United Kingdom