Welcome!
The Fordingbridge Choral Society has been providing the finest music for the past 40 years.
​
Handel's Messiah
Do join us in the Parish Church of St Peter and St Paul Ringwood on Saturday November 30th when we shall give a performance of Handel's Messiah in aid of Ringwood Rotary Club
see our concert page for more details
​
If you would like to hear excerpts from the Mozart Requiem recorded at a recent concert please use this link which will take you to YouTube and will open in a new window. Enjoy!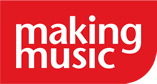 This society is affiliated to Making Music which represents and supports amateur vocal, instrumental and promoting societies throughout the United Kingdom