Fordingbridge
Choral
Society
Contact Us
Fordingbridge Choral practises every Wednesday in Fordingbridge at the United Reformed Church, 41 Salisbury St Fordingbridge, Hampshire SP6 1AB from 7.30pm until 9.15pm.
If you have any questions or would like more details of our concerts, please use the form below or contact our Secretary Mr Ian Gates on 01425 656348.
​
Join Our Choir
We welcome new singers! Membership of the Society is open to any and all who enjoy singing. If you would like to join us, please get in touch with the Secretary using the contact form below or just come along on a Wednesday evening and try it out!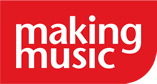 This society is affiliated to Making Music which represents and supports amateur vocal, instrumental and promoting societies throughout the United Kingdom
Member of British Choirs on the Net